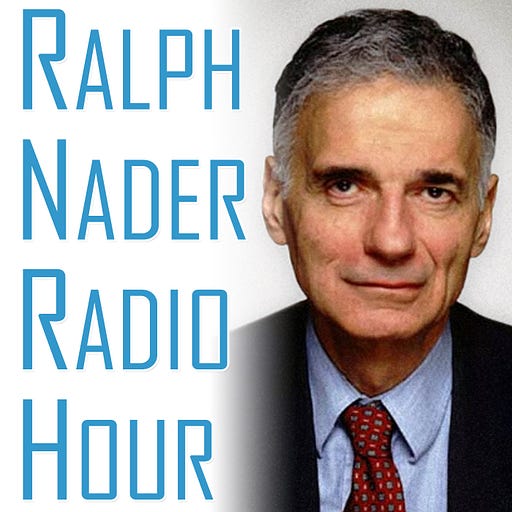 Apr 16, 2022 • 58M
Chris Hedges on Ukraine, the Press & Much More!
Ralph Nader talks about what's happening in America, what's happening around the world, and most importantly what's happening underneath it all.
Ralph welcomes back prolific Pulitzer Prize winning author and esteemed public intellectual, Chris Hedges, to get his thoughts on the hypocrisy of war, corporate control of the press, Julian Assange, unions, grass roots activism, Christian fascists, and his work teaching in prisons. Plus, Ralph comments on the proposed Amazon internal app and the threat to Senate cafeteria workers.
---
Chris Hedges is a Pulitzer Prize-winning journalist, who spent nearly two decades as a foreign correspondent in Central America, the Middle East, Africa and the Balkans. He was host of the Emmy Award­–nominated RT America show On Contact. He is the author of numerous books, including Our Class: Trauma and Transformation in an American Prison, and he is the host of The Chris Hedges Report.
[NPR], like PBS, are dependent upon corporations and wealthy donors, including the Koch brothers… And that has essentially neutered their capacity to give a platform to voices that don't represent the power structures, corporate structures, military structures.
Chris Hedges
You could say that [On Contact wasn't removed by Youtube] over the content. But in fact, of course, it was over the content. Those were the kinds of voices that this increasingly discredited corporate state doesn't want heard.
Chris Hedges
The mainstream church is in such decline and is atrophied in the same way that, of course , news organizations have. That they're terrified of offending anybody within those organizations, especially those who have the capacity to give money. So, they've retreated into this kind of "boutique activism" and "How is it with me?" spirituality, which was really just narcissism, and squandered whatever moral authority they have in this society.
Chris Hedges
Congress is the only thing we have left in a situation like this. 535 of them. We all know their names. Listeners, you know what you have to do. You have to shout "Diplomacy!" You have to shout "Negotiation!" You have to shout for an end to a war that gets spread all over the world. You even hear people talking about "World War III", which would be the last world war.
Ralph Nader
We eventually have to get back to the people. They've got to start doing their homework. They've got to start understanding that if you give dictatorial forces a foot, they're going to take a mile. And then it's going to come back against them on where they live, work, and raise their families. That's the history of autocratic and dictatorial movements abroad.
Ralph Nader
---