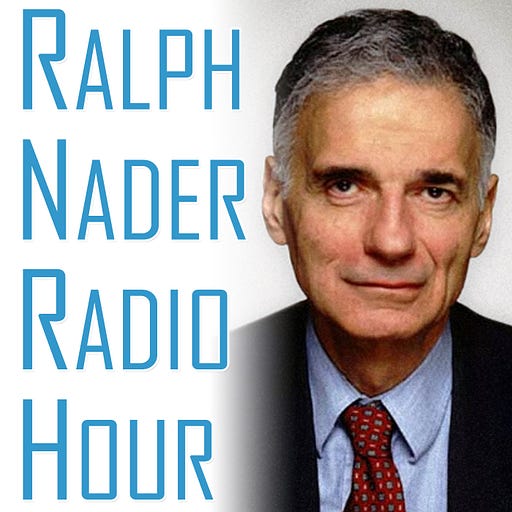 Mar 27, 2021 • 1HR 4M
Corporate Prisoner
Ralph Nader talks about what's happening in America, what's happening around the world, and most importantly what's happening underneath it all.
Ralph speaks to human rights lawyer, Steven Donziger, who represented the indigenous people of Ecuador and won a multi-billion dollar judgement against Chevron for polluting the Ecuadorian rain forest in what is known as the "Amazon Chernobyl." So why has he been held under house arrest in New York for nearly years? Tune in to find out.
---
Steven Donziger is an advocate, writer, and public speaker who specializes in addressing corporate malfeasance and human rights abuses. He was a member of the legal team that won a landmark $9.5 billion judgement against Chevron for the environmental cleanup of an area of the Ecuadorian Amazon. He is one of many from that team now fighting, on their own behalf, against Chevron's retaliatory lawsuits in US courts.
"I first went to Ecuador… with a team of lawyers and doctors to investigate what we were told was the world's worst oil-related catastrophe, in the northern part of Ecuador's Amazon. Where Texaco had operated for 25 years, and had designed a system to deliberately pollute the environment as a way to lower its production costs. This was not an accident. This was not like the BP spill in the Gulf of Mexico in 2010. This was a system designed to pollute."
Steven Donziger Human Rights Lawyer
"What Chevron has been doing to Steve Donziger, it's not just an environmental suit. It's a human rights suit affecting the health and safety of thousands of indigenous peoples in the Amazonian area of Ecuador."
Ralph Nader
"There was obviously a mass poisoning going on of this entire region and all the little rural communities in this area. The roads were filled with oil because Texaco would suck some of the oil out of the pits and dump it along the roads to keep the dust down."
Steven Donziger Human Rights Lawyer
"Once [the legal battle] shifted to New York City, the key ally of Chevron was Judge Lewis Kaplan…  Judge Kaplan proceeded to do such partisan maneuvers and denial of due process, the likes of which I've rarely read about in American judicial history."
Ralph Nader
"I have a right under US law, under international law, to a neutral fact finder and an unbiased judge and a disinterested prosecutor, and I have none of that… Go figure. It's just unbelievable the interconnectedness of these various interests in a situation where the law requires utter neutrality."
Steven Donziger Human Rights Lawyer
---