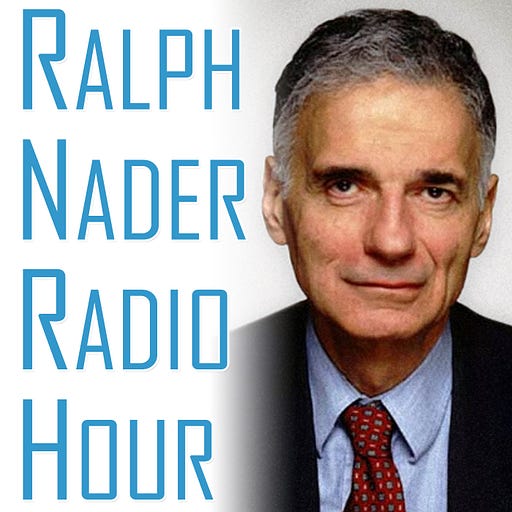 Dec 5, 2020 • 1HR 4M
Do The Right Thing!
Ralph Nader talks about what's happening in America, what's happening around the world, and most importantly what's happening underneath it all.
Why is it so hard for people to do the right thing? Ralph spends the entire hour with Amherst professor of psychology, Dr. Catherine Sanderson, discussing her book "Why We Act: Turning Bystanders into Moral Rebels."   
---
Professor Catherine Sanderson is the Chair of Psychology at Amherst College. In 2012, she was named one of the country's top 300 professors by the Princeton Review. She speaks regularly on the science of happiness, the power of emotional intelligence, and the psychology of courage and inaction. Dr. Sanderson gave a Tedx talk on the Psychology of Inaction, which is also the subject of her latest book titled Why We Act: Turning Bystanders Into Moral Rebels.
"Moral courage: The ability to stand up sometimes to members of your own group, your team, your colleagues, your political party, and to say, 'I disagree, this isn't right.' And that imposes considerable risk to people, which is why many people stay silent. But we can all learn strategies to overcome the pressures that often lead us to be silent and fail to act."
Dr. Catherine Sanderson, author of Why We Act: Turning Bystanders into Moral Rebels
"I think the pressures that lead people to be silent are actually detrimental. Because it can lead people to be so afraid of doing or saying the wrong thing, that they in fact stay silent. And in some cases that can really mean that people are not even given a chance to try to share their view, share their input and so on. When we become as a society so afraid of saying or doing the wrong thing, I also think that can be problematic."
Dr. Catherine Sanderson, author of Why We Act: Turning Bystanders into Moral Rebels
"We need more whistleblowers. We need them to bring their conscience to work. We need them to come out and not be seen as snitches and disgruntled employees."
Ralph Nader
---