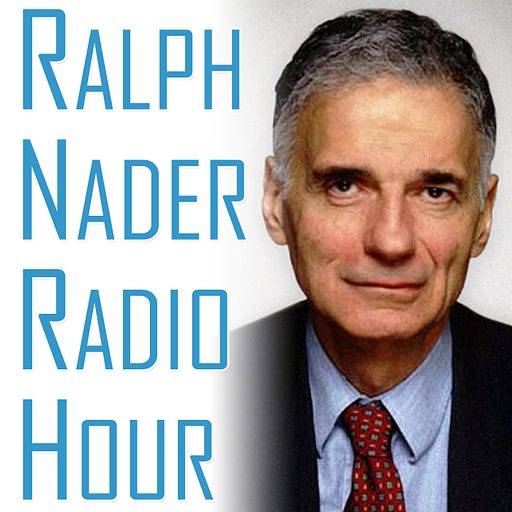 May 2, 2020 • 1HR 10M
Dr. Michael Osterholm on Covid-19
Ralph Nader talks about what's happening in America, what's happening around the world, and most importantly what's happening underneath it all.
Infectious disease expert, Dr. Michael Osterholm, comes back to update us on the latest in the battle against Covid-19. And Naila Bolus, president and CEO of "Jumpstart," joins us to talk about how the money spent on early education gives society a tremendous return on investment.
---
Dr. Michael Osterholm is a professor and director of the Center for Infectious Disease Research and Policy at the University of Minnesota. He is the author of the 2017 book, "Deadliest Enemy: Our War Against Killer Germs". And from June 2018 through May 2019, Dr. Osterholm served as a Science Envoy for Health Security on behalf of the US Department of State. He has a weekly podcast called the Osterholm Update: COVID-19.
"We just have a shortage of testing for what we call the PCR test. This is the one that detects the actual virus itself… The challenge has been that we need reagents, chemicals that run the test… What we've needed is a national, international effort almost like a Marshall Plan with the private sector and public sectors coming together. Everybody is out there trying to get the reagents for themselves, and there are not nearly enough."
Dr. Michael Osterholm, author of "Deadliest Enemy: Our War Against Killer Germs"
"As we think of [public health] from a military standpoint the investments have to increase. And we have to be able to have the tools we need to respond quickly. Imagine if we were fighting a war today and we had Civil War muskets. Unfortunately, far too often, that's what we have in public health today."
Dr. Michael Osterholm, author of "Deadliest Enemy: Our War Against Killer Germs"
---
Naila Bolus is the President and CEO of Jumpstart, a national early education organization that provides language, literacy and social-emotional programming for preschoolers from underserved communities. Jumpstart closes the kindergarten readiness gap, by giving children in under-resourced communities the critical academic and social skills they need before they enter kindergarten.
"High quality early childhood education programs consistently generate the greatest social return on investments actually ever documented in social science. So let's start right there. That's the why. We know every dollar invested saves taxpayers thirteen dollars in future costs. So, when you're thinking about a return on investment with education this is your best bet."
Naila Bolus, President and CEO of Jumpstart
"All aspects of early childhood education will face enormous funding challenges in the months and years to come as a result of [this coronavirus]…  And you have to deal with the fact that children are coming back to centers and schools with significant academic and emotional needs. We're just starting to think about the trauma and the impacts this crisis is going to have, and they always disproportionately impact children in underserved communities."
Naila Bolus, President and CEO of Jumpstart
---