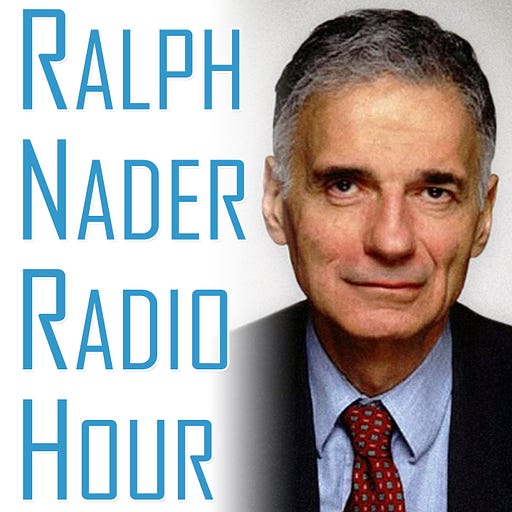 Sep 21, 2019 • 1HR 13M
Facebook Anonymity/Your Day in Court
Ralph Nader talks about what's happening in America, what's happening around the world, and most importantly what's happening underneath it all.
Original Nader's Raider, Robert Fellmeth, expands upon his open letter to Mark Zuckerberg, demanding that we should know who is talking to us on Facebook. Also, Executive Director of the Museum of Tort Law, Richard Newman, joins us to argue for an ordinary person's right to have their day in court as he promotes Tort Law Day on October 5th.
Robert Fellmeth has had a long and distinguished career as a public advocate. As a graduate student in the late sixties, he became the original Nader's Raider, investigating the Federal Trade Commission. He then went on to work as an attorney in Ralph's office, the Center for the Study of Responsive Law. In 1980, he founded The Center for Public Interest Law at the University of San Diego Law School and also founded the Children's Advocacy Institute, an organization that specializes in reforming the child protection and foster care systems and improving outcomes for youth aging out of foster care. 
"We need to know if that message popping up on a device eight inches from our faces is from a Russian bot or the Koch Brothers, House Speaker Nancy Pelosi, or our favorite pizza place."  
Robert Fellmeth in his open letter to Mark Zuckerberg 
Richard Newman is the Executive Director of the American Museum of Tort Law. He is a consumer attorney who practices in Connecticut. He has served as the President of the Connecticut Trial Lawyers Association. 
"Tort Law Day is an innovative new program, and we hope it will be a model for cities and communities all around the country. The idea is that tort law affects directly or indirectly everyone in this country, because of dangerous or defective products, unsafe conduct, malpractice, whatever it might be, people are at risk. And tort law is the mechanism that lets them defend themselves from wrongful injuries."  
Richard Newman, promoting the first annual Tort Law Day, October 5th 2019 
---