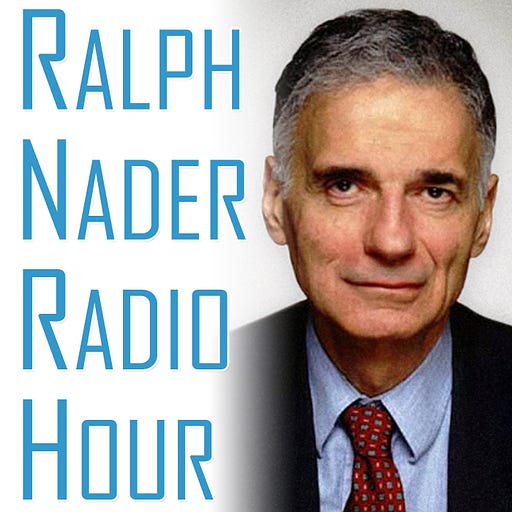 Dec 12, 2020 • 1HR 6M
Georgia On My Mind
Ralph Nader talks about what's happening in America, what's happening around the world, and most importantly what's happening underneath it all.
With the Senate run-off election in Georgia close at hand, Ralph speaks to political psychologist and author of "The Political Brain," Drew Westen, about how in order to win, the Democratic candidates need to wrap their policy prescriptions in an effective emotional message.
---
Dr. Drew Westen  is a clinical, personality, and political psychologist and neuroscientist, and Professor in the Departments of Psychology and Psychiatry at Emory University. Dr. Westen is the author of The Political Brain: The Role of Emotion in Deciding the Fate of the Nation and is the founder of Westen Strategies, a strategic messaging consulting firm. He has advised a range of candidates and organizations, from presidential and congressional campaigns to major progressive organizations to the House and Senate Democratic Caucuses.
"If we (the Democrats) lose this election in Georgia, it's because we're not going to pick back up the suburbs. It's not because we're going to have low black turnout. Because I think with Raphael Warnock on the ballot and with all the efforts to bring black voters out, I think we're going to see black voters. But black voters are 30% of the population in of voters Georgia. And if you just do the math, you have to pick up 30% of white voters. And if you don't bring them out, you don't target them, if you don't speak to them, if you don't speak to their concerns, their interests, their values, their feelings, if you don't do that, you're not going to win those elections."
Dr. Drew Westen, author of "The Political Brain: The Role of Emotion in Deciding the Fate of the Nation"
"(Raphael Warnock should) say, 'You want to call me a radical? Yeah, I represent the radical ordinary Georgian, the ordinary Georgian who believes you shouldn't have to have two or three jobs just to put food on the table for your family or just to get by. If you want to have one job and come home at night, be able to be with your kids, be able to help them with their homework, if you've got a minimum wage of $8.00 an hour, you're bringing home 15K a year. Try raising your family on $15K a year.' That's the kind of values, emotion-based messaging that I'm describing. It's not devoid of reason. It's using reason, but it's speaking to their values and their interests."
Dr. Drew Westen, author of "The Political Brain: The Role of Emotion in Deciding the Fate of the Nation"
"This identity politics is killing us everywhere.  It killed us down-ballot everywhere. It is not helping at all in Georgia."
Dr. Drew Westen, author of "The Political Brain: The Role of Emotion in Deciding the Fate of the Nation"
"It's not an either/or – minorities or white workers – This is a major tragedy politically for democracy and justice in America… Indiscriminate injustice should be the base of the Democratic Party. It doesn't matter, in red state/blue state, conservative/liberal; white/African-American, they're all cheated and ripped off the same way by the insurance companies, by the banks, by corporate crime; by the credit card gougers; by the big landlords."
Ralph Nader
---