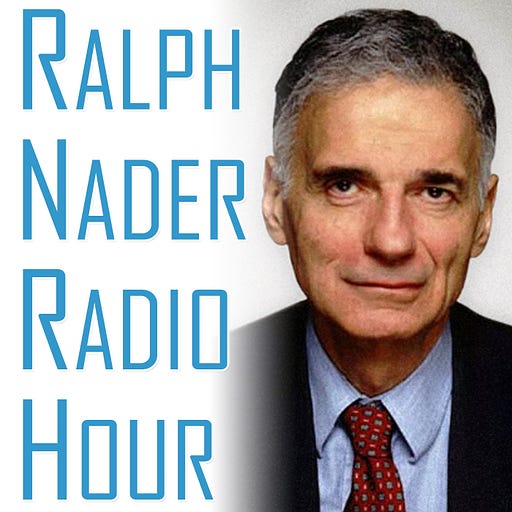 Aug 31, 2019 • 1HR 17M
Media Consolidation/Plant-Based Diets
Ralph Nader talks about what's happening in America, what's happening around the world, and most importantly what's happening underneath it all.
John Nichols returns to about the future of newspapers in light of the latest merger between the two largest chains in the country, Gannett and GateHouse. Also, Washington Post reporter and former meat-eater, Courtland Milloy, tells us how much his health improved when he turned to a plant-based diet.
---
John Nichols is the National Affairs Correspondent for The Nation magazine. In addition to that work, he has also written extensively on media issues with co-author, Robert McChesney, including Dollarocracy: How the Money and Media Election Complex is Destroying America, The Death and Life of American Journalism: The Media Revolution That Will Begin The World Again, and Tragedy & Farce: How the American Media Sells Wars, Spins Elections, and Destroys Democracy.
"Bob McChesney and I have proposed that at the local, state or national level governments create a tax credit, a tax benefit, where you can deduct from your taxes your subscriptions to a local newspaper or to a local website, your support for a non-profit, community focused news generating institution. People ought to be able to take it off their taxes. We basically have a democracy tax credit of maybe a hundred, two hundred bucks… This model can work." 
John Nichols, author of "The Death and Life of American Journalism: The Media Revolution That Will Begin The World Again"
Courtland Milloy is a columnist for the Washington Post. In his career he has covered a wide variety of topics, local crime, politics, foreign policy, lifestyle and many more. These days he's writing a lot about health, his own and that of the friends and family around him. He's written a number of columns on the topic, which started with one entitled "I Will Eat Healthier. And This Time I Mean It." 
"When I look at the outrage over what's happening in the Amazon with the fires to make more land to grow more cattle so the U.S. can have bigger steaks… there's an outcry over that. People are seeing global connections and understanding food sustainability. And I think that along with renewed activism around climate change (and) the growth of urban gardening… people are starting to link the worst parts of our diet with some of our worst behaviors." 
Courtland Milloy, columnist for the Washington Post on the value of plant based diets
---