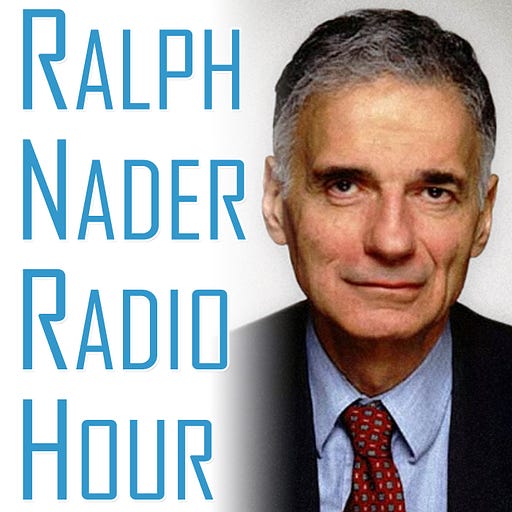 Jul 27, 2019 • 1HR 41M
Mueller Testimony/Investigating Airline Crashes
Ralph Nader talks about what's happening in America, what's happening around the world, and most importantly what's happening underneath it all.
Ralph talks with John Nichols, national affairs correspondent for The Nation magazine, about Robert Mueller's testimony, the imperial presidency and Ilhan Omar, and many other aspects of the current political landscape. Then we welcome aviation crash expert, Dr. Alan Diehl, who gives us his take on the situation with Boeing and the problematic 737 MAX 8.
---
John Nichols is the national-affairs correspondent for the Nation magazine and host of Next Left, The Nation's podcast. He is the author of  "Horsemen of the Trumpocalypse: A Field Guide to the Most Dangerous People in America," from Nation Books, and co-author, with Robert W. McChesney, of People Get Ready: The Fight Against a Jobless Economy and a Citizenless Democracy.
"The fact of the matter is that an impeachment inquiry is never usually demanded by everybody. You get there at the point where people know enough to say 'Hold it, something bad here has occurred.' Imagine if in 1973 folks had said, 'You know look, we just can't look into what Richard Nixon's done with regards to Watergate and all these other things, because he just got re-elected by an overwhelming majority'… Believe me, today you might hear that. If that was the standard, Nixon would have been protected simply by the fact that he won an election." 
John Nichols, National Affairs correspondent for The Nation magazine.
---
Dr. Alan Diehl has held important positions with aircraft manufacturers and the National Transportation Safety Board, the FAA and the US Air Force. Dr. Diehl was also celebrated for exposing mistakes by government officials that led to deadly accidents. He holds degrees in Psychology, Management and Engineering as well as an Airline Transport Pilot license. His first book, "Silent Knights: Blowing the Whistle on Military Accidents and Their Cover-Ups" was widely acclaimed and nominated for a Pulitzer Prize. His latest is "Air Safety Investigators: Using Science to Save Lives One Crash At a Time."
"The (Boeing) marketeers overruled the (Boeing) engineers." 
Dr. Alan Diehl, aviation crash expert.
---