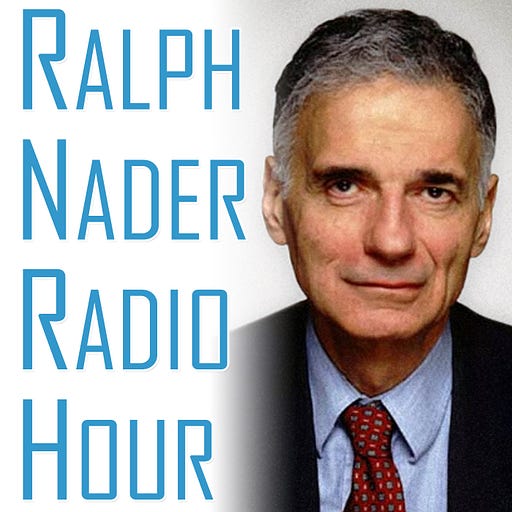 Jan 9, 2021 • 1HR 0M
Now That The Dems Control Congress…
Ralph Nader talks about what's happening in America, what's happening around the world, and most importantly what's happening underneath it all.
We caught up with Connecticut Congressman, John Larson, just moments before he walked to the Capitol for the Electoral College certification that turned into an insurrection. Moments before, Ralph spoke to him about what the Democrats should do about various issues now that they control Congress. Plus, Ralph answers listener questions.
---
Congressman John Larson is currently serving his twelfth term in the US House of Representatives. He represents Connecticut's 1st District, and is the chair of the House Ways and Means Social Security Subcommittee. He is the author of the Social Security 2100 Act, which has been cosponsored by more than 200 other members of the House and endorsed by groups including Public Citizen, the NAACP, The National Organization for Women, and AFL-CIO.
"[I'm hearing from people back home] I'm tired of the squabbling. I'm tired of the bipartisan chatter. People are dying. What are you doing about COVID?… I don't know why we haven't gone to the Defense Production Act and utilized the Defense Logistics Agency."
Congressman John Larson, Representative of Connecticut's First District in the U.S. House of Representatives 
"Joe Biden has got to be a different Joe Biden… He's got to do more than Franklin Delano Roosevelt. He has got to marshal the new coalition… and be very aware that public investment in people, and in the United States public works or infrastructure, is a winning political strategy, and is a winning economic strategy, and is a winning humanitarian strategy. No holds barred."
Ralph Nader
"Obviously, speaker Pelosi had [President] Trump nailed on numerous, clear-cut, slam dunk impeachable offenses against our constitution, and she had the energy level for Ukraine only, which wasn't exactly a kitchen table issue for Americans… [Congressman John Larson] and other members of the Democratic Party thought that Nancy Pelosi went far too narrow in her once-in-a-lifetime opportunity to nail Trump and get him convicted in the Senate."
Ralph Nader
---