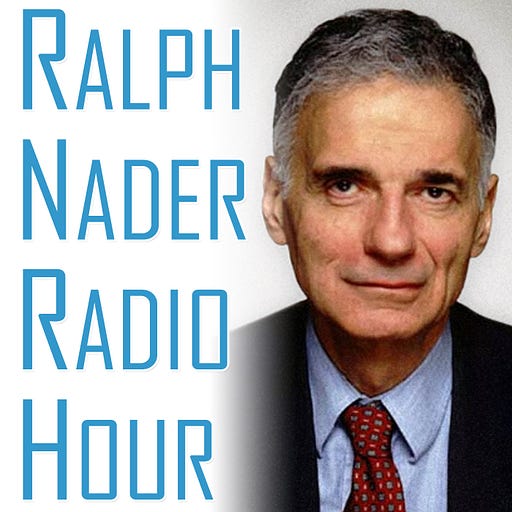 May 13, 2017 • 1HR 2M
Progressive Teaching/Raised By Animals/Comey Firing
Ralph Nader talks about what's happening in America, what's happening around the world, and most importantly what's happening underneath it all.
Ralph talks to education expert Brian D. Schultz about how he has put his innovative, child-centric teaching philosophy into practice in public schools.  And Dr. Jennifer Verdolin tells us what humans can learn about parenting from the animal kingdom.  Plus, Ralph weighs in on the firing of FBI Director James Comey.
---
Brian D. Schultz  is department chair and professor of Educational Inquiry and Curriculum Studies at Northeastern Illinois University in Chicago where he teaches courses on contemporary issues in education and curriculum. Professor Schultz also taught in the Chicago Public Schools in the very tough Cabrini Green neighborhood.  He has written a number of books about education , including the one we're going to talk about today, Teaching in the Cracks about how teachers and schools are creating democratic and progressive education amidst the current trend toward standardized testing.
"The ideas about school choice and vouchers and privatization of public education is only going to get worse before it gets better.  What we're seeing widespread in public education is more of this standardized, very unengaging material that pushes kids to drop out of school.  Certainly in high school we see that, because the curriculum is not relevant or responsive to the children.  We need to change that trope."
Dr. Brian D. Schultz, author of Teaching in the Cracks: Openings and Opportunities for Student-Centered, Action-Focused Curriculum
---
Dr. Jennifer Verdolin is an expert in animal behavior, specializing in social structure and mating systems.  She draws on animal behavior to reveal how much we can learn from other species to improve our relationships, families, and lives.  Her first popular science book, Wild Connection: What Animal Courtship and Mating Tell Us About Human Relationships  tackled the wild world of romance.  Her second book, Raised By Animals is just out this month.  So, we're excited to be talking about it today. 
"It was really challenging to find any examples of animal parents that interact in aggressive and hostile ways with their offspring in the same way that we see in many human families… There is a difference between punishment and teaching and I don't think many humans understand that distinction."
Dr. Jennifer Verdolin author of Raised By Animals: The Surprising New Science of Animal Family Dynamics