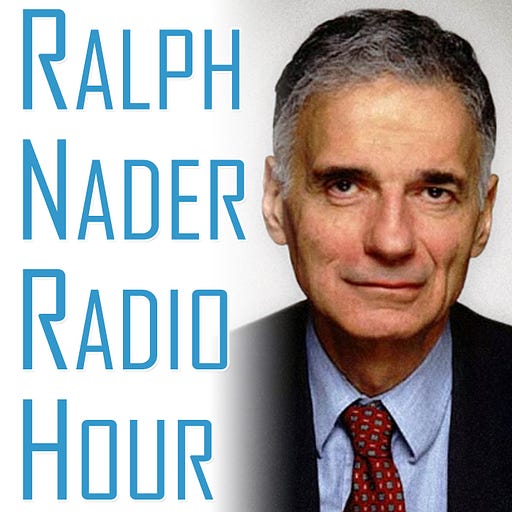 Jan 5, 2019 • 1HR 20M
Sports, Politics, and the Lies of History
Ralph Nader talks about what's happening in America, what's happening around the world, and most importantly what's happening underneath it all.
Ralph talks to Nation magazine sports editor, Dave Zirin, about among other things Lebron James, the heroic gymnasts who brought down Dr. Larry Nasser, and the future of football. And Professor James W. Loewen reveals all the lies your teacher told you in high school about American history.
---
Dave Zirin is sports editor for The Nation magazine and the author of eight books on the politics of sports, most recently, "Brazil's Dance with the Devil: The World Cup, The Olympics, and the Fight for Democracy. Mr. Zirin is a frequent guest on ESPN, MSNBC, and Democracy Now! He also hosts The Nation's Edge of Sports podcast.
"This issue of head injuries, much more so than anyone kneeling during the anthem or sniping with Trump or any such nonsense, that's what represents the true existential threat to the sport (of football)… It may take fifty years, but there is an evolution going on where I think the sport is going to leak out the next generation of talent, particularly about concerns at the high school level. And the more we learn about concussions, the more difficult it's going to be to insure these programs just to make them legally viable and affordable in your typical high school district." 
Dave Zirin Sports editor for "The Nation."
---
James W. Loewen is a sociologist and historian. He is the author of a number of books, including Sundown Towns; Teaching What Really Happened); The Confederate and Neo-Confederate Reader; and the new paperback edition of his most famous book Lies My Teacher Told Me: Everything Your High School History Textbook Got Wrong.
"(Christopher Columbus) started the process of the transatlantic slave trade only from left to right, from West to East, namely in shall we say "red people," Native Americans. He doesn't get credit for that, because again, that might be controversial, that might be bad. We can't have Columbus Day if we're going to be saying bad things about him." 
James W. Loewen, author of Lies My Teacher Told Me: Everything Your High School History Textbook Got Wrong
---