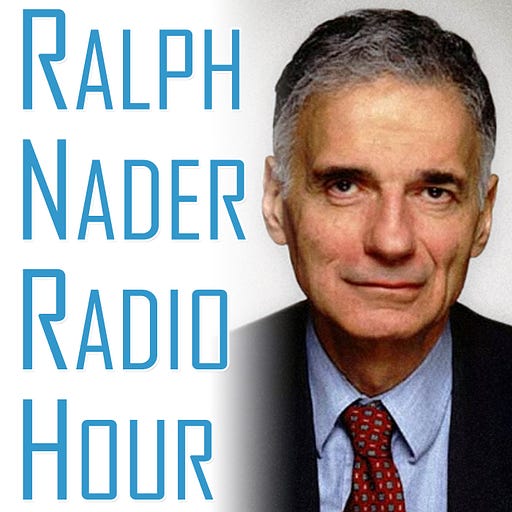 Feb 13, 2021 • 1HR 0M
"Tax The Rich" Redux
Ralph Nader talks about what's happening in America, what's happening around the world, and most importantly what's happening underneath it all.
Ralph welcomes Erica Payne, founder of "Patriotic Millionaires" and co-author of the upcoming book "Tax the Rich" to talk about how wealthy people need to realize that the real price of their numerous tax cuts is more social unrest. Plus, Ralph answers more of your questions.
---
Erica Payne is the founder and president of Patriotic Millionaires, an organization of high-net worth individuals that aims to restructure America's political economy to suit the needs of all Americans. Their work includes advocating for a highly progressive tax system, a livable minimum wage, and equal political representation for all citizens. She is the co-author, with Morris Pearl, of Tax the Rich: How Lies, Loopholes and Lobbyists Make the Rich Even Richer.
"Corporations pay taxes on their profits, which are determined after their expenses. Which include payroll. So even arguing that tax cuts are a job creator or that the people who are promoting tax cuts are themselves job creators is absurd on its face. And it's that lie that is at the center of the cancer that is eating apart this country."
Erica Payne, author of Tax the Rich: How Lies, Loopholes and Lobbyists Make the Rich Even Richer
"If you bought a movie from Netflix last year, you paid more for your movie than Netflix paid in taxes."
Erica Payne, author of Tax the Rich: How Lies, Loopholes and Lobbyists Make the Rich Even Richer
"Depending on how you make your money, the federal government taxes it differently… The fact that [full time workers] worked to make [their money] and they have a … deficit relative to the person who just sat around and inherited it from somebody? That makes me sick. And we wonder why we have people attacking the Capitol on January 6th and social unrest more than we've ever had in the history of the country."
Erica Payne, author of Tax the Rich: How Lies, Loopholes and Lobbyists Make the Rich Even Richer
"I've been at this fight for ten years… and you can take fifty percent of the political system off the table entirely– and that's the Republican Party. Because they are a party of rich people funded specifically in order to achieve tax breaks. Then you look at the Democratic party as a whole… I would say that we are at about fifty percent of the Democratic Party would like to raise taxes substantially on rich people and unrig the economy. Another fifty percent of them have absolutely no interest in pissing off their donors any more than the Republicans do."
Erica Payne, author of Tax the Rich: How Lies, Loopholes and Lobbyists Make the Rich Even Richer
"We have this adulation of wealth in this country that has taken us down a really dark path… For the first time in history, life expectancy is going down for segments of our population. Deaths due to suicide, alcohol, and drugs– which are known as deaths of despair– are at the highest point they've ever been in recorded history. The Sackler family has been right at the middle of that, along with other families who have just piled wealth upon wealth upon wealth with actually no moral construct whatsoever to their business activities. They have destroyed the lives of millions upon millions of people and we give them a tax break for doing it. It makes me sick. And it should make every American of every political party sick."
Erica Payne, author of Tax the Rich: How Lies, Loopholes and Lobbyists Make the Rich Even Richer
"These huge corporate leaders go on TV every single day and just bald-faced lie to the American people."
Erica Payne, author of Tax the Rich: How Lies, Loopholes and Lobbyists Make the Rich Even Richer
"On some level, the politicians are taking an abysmally low dollar figure to sell out the country this badly. If Paul Ryan's going to sell out the country and hand $1.5 billion to David Koch, I would expect him to get a little bit more out of it than $500,000."
Erica Payne, author of Tax the Rich: How Lies, Loopholes and Lobbyists Make the Rich Even Richer
"If you think that you should work your ass off and pay twice the tax rate of people who are sitting on the beach clicking on their E-Trade account, keep the tax code we have. Don't say anything to your lawmakers. Let the whole thing go… if you think that that's a problem, it's time to engage with your Congresspeople."
Erica Payne, author of Tax the Rich: How Lies, Loopholes and Lobbyists Make the Rich Even Richer
"Taxes are complicated, and they are boring. They are complicated on purpose so that you will not understand them, and they are boring because they are just boring. Except that they aren't. Taxes are the sexiest part of the American public policy portfolio. Everything happens in the tax code."
Erica Payne, author of Tax the Rich: How Lies, Loopholes and Lobbyists Make the Rich Even Richer
"I don't ever see corporations having marches and rallies for all their tax cuts. They just focus on personal golf playing, campaign money, personal relations with members of Congress and their key staff."
Ralph Nader
---