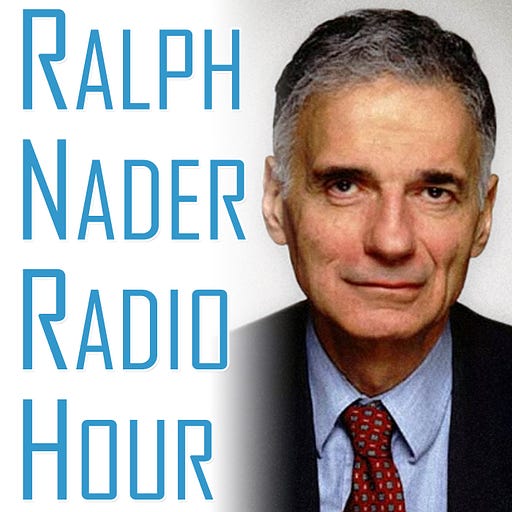 May 5, 2018 • 1HR 1M
The Myth of the Litigious Society
Ralph Nader talks about what's happening in America, what's happening around the world, and most importantly what's happening underneath it all.
The Radio Hour celebrates that bedrock Constitutional principle of an ordinary citizen's right to have their day in court, when Ralph talks to legendary trial lawyers, Stephen Susman, Shanin Specter and Executive Director of the American Museum of Tort Law, Richard Newman.  Plus more listener questions!
---
Richard Newman is the Executive Director of the American Museum of Tort Law. He is a consumer attorney who practiced trial law with the firm of Adelman Hirsch and Newman in Connecticut. He is co-author of the treatise "Tort Remedies in Connecticut" and served as President of the Connecticut Trial Lawyers Association.
"The most common word in the Bill of Rights other than "a" and "the" is "jury." That's how much importance the founding fathers placed on juries. It's in a grand jury for a criminal indictment. There's a right to a jury in a criminal case. And there's a right to a jury trial in a civil case. Jury trials are an important, critical pillar of preserving our democracy." 
Richard Newman, Executive Director of the American Museum of Tort Law
---
Recognized as one of the most successful plaintiff's attorneys in the United States, Stephen Susman (https://www.susmangodfrey.com/attorneys/stephen-d-susman/) has throughout his career represented both plaintiffs and defendants ranging from Northrop in its suit against McDonnell Douglas over the F-18 jet fighter, House Speaker Jim Wright in his ethics battle, the Hunt brothers in the largest lender liability case in history, and the state of Arkansas in a milk price-fixing case. He has been widely recognized as one of the most successful litigators in the world. He is the Executive Director of the Civil Jury Project at NYU Law School.
"80% of the non-lawyers in this country think that in the last ten years, the number of trials have either remained constant or increased. Dead wrong. And they're dead wrong because they have been brainwashed by the Business Roundtable, The Chamber of Commerce and The Federalist Society to think that this litigation explosion is still going on." 
Stephen Susman, Executive Director of the Civil Jury Project at NYU
---
Shanin Specter has obtained more than 200 jury verdicts and settlements in excess of $1 million including 16 verdicts greater than $10 million. Among his verdicts are $153 million against a major automaker and $109 million against an electric power company. Specter's legal victories have included news making, industry-changing cases involving medical malpractice, defective products, medical devices, premises liability, motor vehicle accidents and general negligence.
"It's amazing how people feel so strongly about the jury system once they live it themselves." 
Shanin Specter, Attorney at Kline and Specter