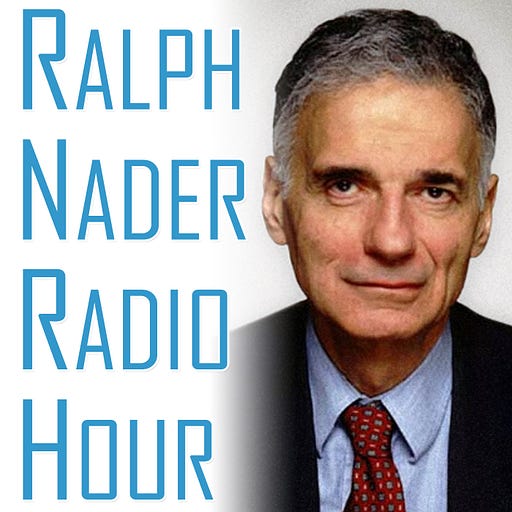 May 16, 2020 • 1HR 13M
Trump Death Clock/Saving the Post Office
Ralph Nader talks about what's happening in America, what's happening around the world, and most importantly what's happening underneath it all.
Award-winning filmmaker, Eugene Jarecki, joins Ralph to talk about the electronic billboard he put up in New York's Times Square, the "Trump Death Clock." And Mark Dimondstein, head of the American Postal Workers Union, reminds how the health and safety of postal workers as well as the preservation of the post office is essential for delivering medicines and other vital goods as well as protecting democracy. Plus, listener questions!
---
Eugene Jarecki is an Emmy and Peabody award-winning director of dramatic and documentary subjects. Mr. Jarecki combines the skills of journalist and poet in his documentaries. His work is motivated by his outrage at corruption, exploitation, and injustice in contemporary life. Mr. Jarecki created the Trump Death Clock which documents the estimated U.S. Covid-19 deaths due to President Trump's inaction.
"The President is entrusted with the care of the American people. And to defend the nation from threats within and without. And he failed to do that here. He made a political bet that calling it a hoax and playing games with it would serve him well. And as we have now seen in the numbers both in who we've lost and in their families who are mourning them. And that it's all over the country, his supporters as well. It was a bad political bet for which the nation is paying a huge price. So that's where accountability will lay. It's the accountability of reckless endangerment that led to reckless manslaughter."
Eugene Jarecki, creator of The Trump Death Clock
---
Mark Dimondstein is the President of the American Postal Workers Union. Since 2013 when Mr. Dimondstein was elected, he has turned the APWU into a fighting activist organization. Mr. Dimondstein advocates for the rights of postal workers as well as the right of the American people to a vibrant public Postal Service. The American Postal Workers Union supports Medicare for All and belongs to the Labor Campaign for Single Payer. The APWU believes in paying a living wage and providing benefits to all workers.
"This administration is on record from June 2018 in an Office of Management budget report openly advocating and saying they plan to privatize the public postal service i.e. sell it off to private corporations. A few corporations would benefit and the rest of the people would suffer. Because whether we get mail at all, how often we get it, under what cost and what price would then depend on whether somebody can make a quick buck."
Mark Dimondstein, President of the American Postal Workers Union
---