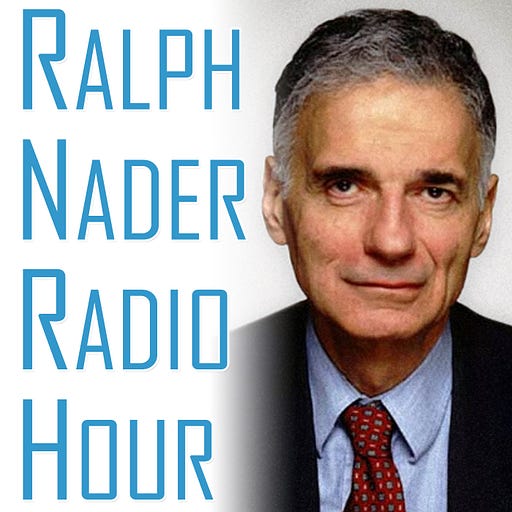 Feb 20, 2016 • 58M
Randall Robinson, Antonin Scalia, William Janssen
Ralph Nader talks about what's happening in America, what's happening around the world, and most importantly what's happening underneath it all.
Author and human rights activist, Randall Robinson, tells us about the Clintons' ties to the private prison industry, while law professor William Janssen argues that pharmaceutical companies have a "duty" to sell live saving medicines.  Plus, Ralph gives us his take on the legacy of late Supreme Court Justice, Antonin Scalia.
---
Randall Robinson is a distinguished author and a political and human rights activist.  He is the founder of TransAfrica, the first organization to advocate for the interests of African and Caribbean peoples.  Among his many books are the national best sellers Quitting America: The Departure of a Black Man from His Native Land; The Debt: What America Owes to Blacks; The Reckoning: What Blacks Owe to Each Other , and Defending the Spirit: A Black Life in America.  Mr. Robinson is also a professor of law at Penn State Law School and is the creator, co-producer, and host of the public television human rights series "World on Trial."
---
Professor William M. Janssen has been on the faculty of the Charleston School of Law since 2006 after a lengthy private practice.  He concentrated his practice in pharmaceutical, medical device, and mass torts defense and risk containment.  In practice, he was involved in several high-profile drug and device cases, including the national diet drug ("fen-phen") litigations.  He has spoken and written extensively on pharmaceutical and medical device law.  He has written a paper that argues that pharmaceutical companies have a "duty" to continue selling their life saving medicines, despite economic forces that may induce them to take the drugs off the market.
---