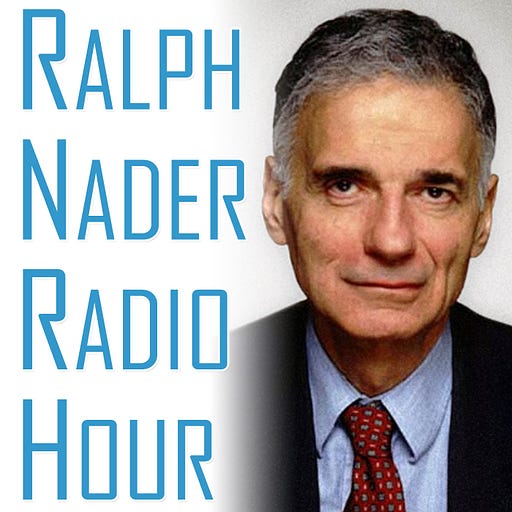 Nov 9, 2019 • 1HR 8M
The CDC's Culture of Fear
Ralph Nader talks about what's happening in America, what's happening around the world, and most importantly what's happening underneath it all.
In our continuing series honoring whistleblowers, Ralph welcomes winner of the Joe A. Calloway Award for Civic Courage, Dr. George Luber, former head of the Centers for Disease Control's Climate Health program, who despite pressure from the newly-minted Trump Administration, blew the whistle after refusing to cancel a convention on how the climate crisis was affecting public health.
George Luber is an epidemiologist at the Centers for Disease Control and Prevention. His research interests include the health impacts of environmental change and biodiversity loss, harmful algal blooms, and the health effects of climate change.  Dr. Luber headed the CDC's climate health program until it was eliminated in 2018 by the Trump White House. The nation's premier health protection agency continues to retaliate against him for speaking out on the climate crisis and its public health effects. He has since filed for whistleblower status with the U.S. Office of Special Counsel and has just received the Joe A. Calloway Award for Civic Courage.
"The most frightening thing, actually, is that somebody would make a decision like this in anticipating the potential blowback from the [Trump] Administration. That to me is frightening, because it's the most insidious form of power. And when you can get people to do things for you without even asking them, that I think is the most frightening thing. To get people to act on your behalf in ways that they normally wouldn't merely out of fear of what you might do."
Dr. George Luber, winner of the Joe A. Calloway Award for Civic Courage
"I was escorted by armed guards when I needed to get some books out of my office [at the CDC]. I had an armed escort and they asked me to come at 11:00am – the height of the day when everybody is around intending to humiliate me – and marched me through our large ten story office building with a large armed guard behind me that even followed me to the bathroom."
Dr. George Luber, winner of the Joe A. Calloway Award for Civic Courage
---